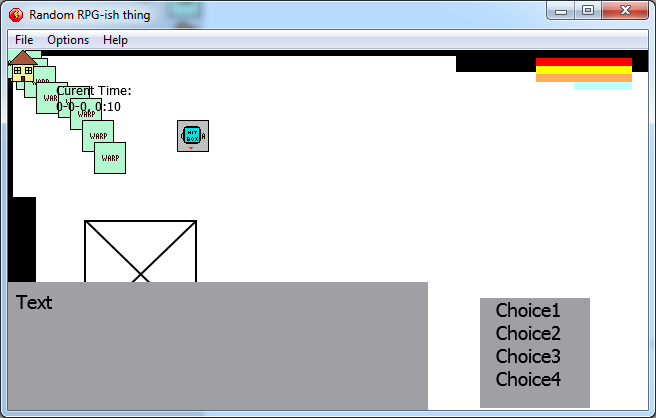 Random RPG-ish is a project I worked on a long time ago. It was my attempt to create an MMO-type RPG game in Clickteam Fusion. It was intended to be a mix of both a slice-of-life, for those who want a calm but cooperative game, and an RPG, for battling with other players and enemies.

I developed a nearly perfect engine for it, including my own inventory system. I learned how to use arrays, and I was making great progress... until I got swamped with life stuff. The project ended up being placed on the backburner, and eventually I just lost the inspiration to continue working on it.

Objects would be loaded from an array file, and the intention was to have maps that can be loaded both from the local disk, as well as servers.

The code is a bit of a mess, and if I were to get back into a project like this, I would want to recode it from the ground up. That is why I am distributing what remains of the project, for looking through to cringe at, or to be recoded and used as a base for your own projects. If you do decide to use this base for a game of some kind, my only request is that you credit me (yoshifan) somewhere. Have fun!